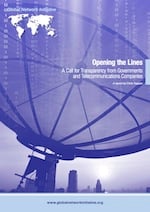 Report Executive Summary available in Arabic, Chinese, French, Russian, and Spanish.
Washington, DC — The human rights obligations of telecommunications companies are in the global spotlight in the wake of recent reports about national security-related communications surveillance. Companies committed to respecting free expression and privacy rights should take this opportunity to work with governments to increase transparency according to a new report released today by the Global Network Initiative.
The report, "Opening the Lines: A Call for Transparency from Governments and Telecommunications Companies," illustrates the types of requirements telecommunications companies face and explores how they can respond to them in ways that respect human rights. Informed by case study review of the laws and regulations governing telecommunications companies in the European Union, and at the national level in Russia, Sweden, and the United Kingdom, the report shows that the risks to free expression and privacy in the sector are not limited to the United States.
"Governments pursuing legitimate responsibilities for national security and law enforcement face real challenges, but as the worldwide reaction to communications surveillance by the U.S. government makes clear, the necessity and proportionality of surveillance measures are far from resolved," said GNI Executive Director Susan Morgan. "It's time for telecommunications companies to demonstrate their commitments to the rights of their users wherever they operate."
The report, authored by Chris Tuppen, senior partner of Advancing Sustainability LLP and the former Chief Sustainability Officer at BT, makes specific recommendations around how to increase transparency. "Telecommunications companies seeking to mitigate their human rights risks have an opportunity to work with governments and other stakeholders to increase transparency in a number of areas, particularly volume of requests made and complied with," says Tuppen.
The report was commissioned prior to GNI entering into a two-year collaboration with eight global companies in the Telecommunications Industry Dialogue on Privacy and Freedom of Expression, and is not endorsed by the Industry Dialogue companies.
Responding to the report Patrik Hiselius, Senior Advisor at TeliaSonera and current Chair of the Industry Dialogue, said: "The Industry Dialogue welcomes GNI's first report on telecommunications and freedom of expression. The report will help different stakeholders understand the complex operating environment of telecommunications companies and sheds light on some of the challenges in defining the boundaries of responsibility regarding freedom of expression within our sector. We look forward to working together, and with the GNI and its members, to further promoting informed debate and practical solutions to these challenges."
###