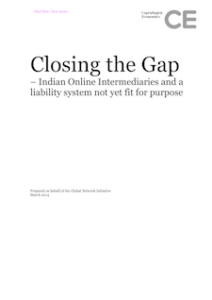 DELHI—The Global Network Initiative (GNI) today released a report, "Closing the Gap: IndianOnline Intermediaries and a Liability System Not Yet Fit for Purpose," prepared by Copenhagen Economics, which found that online platforms that support user-generated content can become an important part of India's Internet economy and contribute approximately INR 2.49 lakh crore (USD 41 Billion) by 2015—in addition to the contribution of other elements of the Internet economy.
This would mean that two years from now their GDP contribution may increase to more than 1.3 per cent, provided that the current legal liability regime is improved. Additionally
, the positive productivity effects of online intermediaries will be significant—creating an even greater impact in India in areas like e-sales and e-procurement compared to their impact in Europe or the US.
Jermyn Brooks, outgoing Chair of the GNI Board, on the launch of the report said, "With India emerging as one of the fastest growing Internet user markets, our report aims to bring to light the importance of providing protection to Internet intermediaries in India in order to create an environment that is conducive to promoting innovation and economic opportunity." He continued, " The current liability regime for India's Internet intermediaries—particularly the Information Technology Act and its regulations—are ill suited to deal with innovation such as social media and user generated content. They do not protect the rights of users, and stand in the way of the economic benefits that India can achieve through the Internet."
Dr. Bruno Basalisco, a leading economist and an expert on network economics, innovation and regulation with Copenhagen Economics said, "India is famed for its entrepreneurial spirit and has now great potential for wide exchange of products, services and information online. Online intermediaries can help a greater number of Indian firms and citizens exchange for mutual benefit—including exports. Yet this potential can only be fully realized with carefully up to date rules for online intermediation which do not place a brake on business growth. Developments from other markets like Europe are a signal to India that it should also seek to benefit from continuously updating and strengthening its liability regime for online platforms."
The projected contribution of Internet intermediaries to the Indian economy—if the liability regime is reformed—would then rival the current contribution of states like Delhi or Haryana to the country's GDP. The uncertainty created by the current liability regime in India creates excessive costs for online intermediaries and new start-ups, which could otherwise contribute more to the Indian economy and increase growth. The report highlights the cases of companies—like MouthShut and Quikr among others—who have suffered due to the uncertain legal liability regime in India.
Online intermediaries are companies providing a platform for exchange of goods, services, or information between third parties on the Internet. They enhance economic activity, reduce costs, and enable market entry for SMEs, thus inducing competition, which at the end of the day leads to lower consumer prices and more economic activity. However, protection against legal responsibility for third-party content is a crucial framework condition for these benefits to materialize and prosper.
Read the report here.