In GNI's "2019 Annu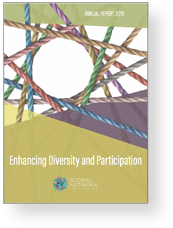 al Report: Enhancing Diversity and Participation," we present important achievements from which we are distilling lessons to face new challenges, as we see governments approaching technology companies worldwide with demands to use their data to combat COVID-19. These lessons and the diversity of our membership – both in terms of geography and the diversity of perspectives within its constituencies – will impact our ability to protect and advance freedom of expression and privacy rights in the information communications and technology (ICT) sector.
Some highlights in this annual report include:
Completing the third cycle of independent company assessments, which was the largest and most diverse cycle to date;
Engaging with policymakers and other key actors to draw attention to problematic trends for freedom of expression and privacy rights and identify good laws and best practices at a global scale;
Promoting multistakeholder collaboration inside and outside GNI by leading regional consultations in Africa, Latin America, and South Asia, amongst other activities;
Bringing together members and outside experts to discuss the first decade of Human Rights Due Diligence (HRDD) in the technology sector, by holding our Annual Learning Forum on HRDD;
Offering over 50 country-specific reports on laws relevant to censorship and surveillance by updating and providing added functionality to our Country Legal Framework Resource;
Welcoming five new members and one company observer from Africa, Asia, Europe, and Latin America; and
Continuing to diversify our sources of funding to engage underrepresented voices from civil society and the private sector in collaborative processes to protect and respect freedom of expression and privacy throughout cyberspace.
Read GNI's "2019 Annual Report: Enhancing Diversity and Participation."