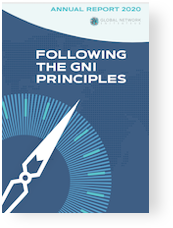 "Following the GNI Principles," will walk you through our strategic pillars with examples of how we seized opportunities for dialogue with decision makers in favor of freedom of expression and privacy in the information and communications technology (ICT) sector, the resources we developed to keep human rights at the forefront of our collective efforts, and the growing and increasingly diverse membership that makes GNI possible.
Some highlights from 2020 include:
David Kaye as our new independent chair. Don't miss the exclusive interview where he talks about how the COVID-19 pandemic has impacted freedom of expression and privacy in the ICT space.

Learning calls to discuss the implications of using ICT data to respond to COVID-19, focusing on the utility of different forms of data to combat the spread of diseases and their potential impacts on privacy and freedom of expression rights of ICT users.

The launch of the

2018/2019 public assessment report

of 11 member companies: Facebook, Google, Microsoft, Millicom, Nokia, Orange, Telefónica, Telenor Group, Telia Company, Verizon Media, and Vodafone Group, marking the completion of the third assessment cycle of GNI.

The publication of "

Content Regulation and Human Rights: Analysis and Recommendations

," a report informed by GNI's diverse, expert

membership

, as well as input from six virtual consultations with government actors and other key stakeholders.

Submissions and statements on a variety of topics from Europe's Digital Services Act to network disruptions during general elections.

A more global and diverse membership with eight new members from Canada, Japan, Myanmar, Panama, and the U.S., and six fellows from Bangladesh, India, Kenya, Paraguay, Peru, and Uganda.
Take a look at GNI's 2020 Annual Report: Following the GNI Principles and we hope that you feel as inspired as we do!