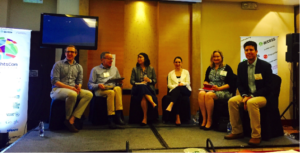 In a well-attended panel discussion at the RightsCon Southeast Asia Summit in Manila, Philippines on March 24th and 25th, GNI participants showcased the initiative's unique and powerful multi-stakeholder approach to free expression and privacy.
GNI was represented by panelists reflecting our diverse membership: Rebecca MacKinnon from the Ranking Digital Rights project at the New America Foundation; Nicole Karlebach from Yahoo; Ben Blink from Google; Cynthia Wong from Human Rights Watch; and Dan Bross from Microsoft. The panelists contributed to a thoughtful discussion, with a lively and interactive audience. The session focused on three themes:
GNI's Principles and Implementation Guidelines as the emerging standard for free expression and privacy across the ICT Sector;
Steps companies are taking to embed human rights considerations into business practices, from human rights impact assessments to transparency reporting; and
Multi-stakeholder collaboration on policy advocacy, from increasing transparency around government surveillance, reforming mutual legal assistance regimes, and legal reform around free expression online.
The discussion, moderated by Michael Samway from Georgetown University, demonstrated the benefits of collective engagement and of an open exchange of ideas across diverse stakeholder groups. The conversation was also driven by an audience including current GNI participants, academic experts, local and regional advocacy groups, government representatives, and other ICT companies.
The session received an unexpected shot of adrenaline when Pranesh Prakash, Policy Director at the Center for Internet and Society in Bangalore, announced that the Indian Supreme Court had overturned Section 66A of India's Information Technology Act, which allowed people to be arrested for posting allegedly "grossly offensive" comments or "causing annoyance or inconvenience" online. The decision came almost one year to the day of GNI's report outlining the economic benefits India could reap if it reformed its intermediary liability laws, including 66A.
The panel closed by offering thanks to the human rights heroes among the advocacy groups in the room and also acknowledged the champions inside companies who work tirelessly to ensure businesses in the ICT sector continue to be responsible decision-makers on free expression and privacy.