The Global Network Initiative today released its 2014 Annual Report, which describes the initiative's work on behalf of freedom of expression and privacy in the ICT sector during the past year.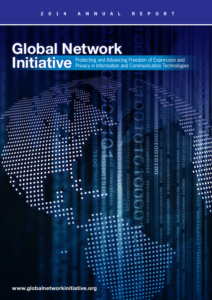 The report provides an overview of GNI's activities during 2014, from collaborating with the Telecommunications Industry Dialogue on learning forums exploring transparency and human rights in the digital age, to our policy advocacy on issues including mutual legal assistance, intermediary liability, and surveillance reform. The report also includes public versions of self-assessment reports from new company members Facebook, LinkedIn, and Procera Networks. These reports illustrate how different companies are implementing the GNI Principles on Freedom of Expression and Privacy, in advance of independent assessments of all participating companies that will take place during 2015.
Download the report.