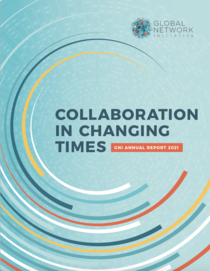 GNI's 2021 Annual Report, Collaboration in Changing Times, highlights GNI's extraordinary work during a year of transition, change, and opportunity. As the COVID-19 pandemic presented challenges to everything from digital rights to business operations, GNI continued to expand our membership and impact. We began a strategic review process to ensure the organization's success and growth during its second decade, implemented new    processes and procedures to better support our members, and continued to grow in both size and diversity. Most importantly, GNI raised its collective voice to advocate for digital rights, free expression, and privacy around the world via policy statements and submissions, press interviews, panel discussions, and more. 
This Annual Report is also a celebration of Judith Lichtenberg's tenure as Executive Director. After seven years of exceptional leadership, Judith moved on from GNI in June of 2022. Deputy Director Jason Pielemeier was unanimously selected by the Board to serve as GNI's new Executive Director. 
Some highlights from this Annual Report include:
An exclusive interview with our new Vice Chair, Agustina del Campo, where she shares her views about how threats to freedom of expression and privacy have changed and the opportunities she sees for GNI. 

Insights into the ongoing strategic review – how GNI is carrying it out, what we're learning, and what comes next. 

Learning calls focused on technology's role in responding to COVID-19, the increase in content regulation legislation around the world, the implications of 5G, the role of managed service providers, human rights due diligence, and more.

GNI's increasing visibility and influence, highlighted by strong media coverage, GNI's presence at key international fora, and participation in conversations directly with policy-makers. 

The publication of two in-depth reports.

Technologies Used in the Fight Against the Pandemic: Personal Data in Latin America

looks at the development and impacts of technologies used to manage COVID-19 in comparison to countries' legal frameworks.

Life Interrupted: Centering the Social Impacts of Network Disruptions in Advocacy in Africa

examines the impacts of network disruptions across 11 countries in sub-Saharan Africa between 2011 and 2020. 

GNI's new

one pager

and

website

on direct access, which is the use of legal and technical arrangements that allow government authorities to access data streams directly. After months of discussion and the efforts of a dedicated working group, these documents illustrate GNI's research and outline the areas for continued work on this concerning trend.

Submissions and statements on a variety of topics, ranging from content regulation efforts, to network disruption, to proposed multilateral frameworks. 

Welcoming 13 new members and observers from around the world. These new members bring their diverse perspectives and invaluable insights to bear on the urgent challenges currently facing digital rights. 
Learn more about GNI's achievements and efforts to protect freedom of expression, privacy, and other key rights here!